Agile Kitchen – Agility as a team event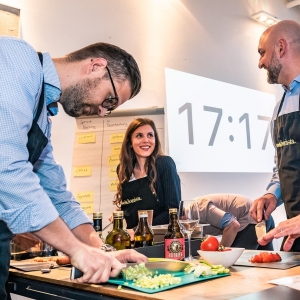 11.07.2019
- If you ask employees what they think about changing their work processes completely, perhaps even giving up their previous title to work in the future in an agile way as part of a team, one thing is certain: you won't generate much enthusiasm. The new world of work offers many advantages - for the company, for the team and for each individual. If the future team members get to know these benefits in a protected space, under safe conditions and in an atmosphere in which they feel comfortable. In a space where they can gain their own experience in an informal way and are empowered in the process, the willingness to accept new conditions is much higher.
Long-term learning by intensive experience
The workshop "Agile Kitchen" is based on this knowledge. The participants implement a customer vision in randomly formed teams according to agile methods.
On a meta-level - from the office into the kitchen where the customer vision that has to be realised. The customer vision is a dish which has to be created according to certain specifications:
It is cooked in several sprints, with planning and review meetings as well as additional mindset impulses. In this way the agile chefs get to know the Scrum process and the corresponding instruments and vocabulary in an informal way. One participant from the insurance industry sums up the learning effect: "I will never forget again what a Scrum Master or a Product Owner actually does."
Successful experiences create acceptance
After all, everyone does the cooking and, above all, everyone is happy about a delicious result: a positive sense of achievement is bound to happen. In addition, knowledge is particularly fixed upon long-term memory when it is not only heard or read, but also experienced. In the Agile Kitchen the participants cook together as a team and iteratively approach the customer vision. Thus, there is no recipe for cooking, but a vision - and thus an agile basic understanding right from the beginning.
The Team as agile core
In the Agile Kitchen there is no chef to give the participants instructions for the "right" preparation. Instead, a professional chef as "Product Owner" and an Agile Coach as "Scrum Master" accompany and moderate the process according to agile principles. Each team starts with a shopping cart, which is used as a product backlog and must be converted into a sprint backlog according to the customer's vision. Afterwards, it is planned, cooked and eaten in sprints - including review and retrospective. In addition, the experiences are reflected and deepened in mindset impulses. The intensive experience not only supports the transfer of knowledge, but also focuses on long-term team enablement.
Modular design for all customer requirements
Agile Kitchen is flexibly structured with four workshop modules, different focal points and topics for all customer needs in order to meet the different requirements depending on industry, company size, career level and level of knowledge. The modules are also designed to be based one on the other. If you take them one after the other, you get a comprehensive overall picture of all aspects of agile work. In addition, the Agile Kitchen is also available as a " customized " variant to address and map individual developments in specific companies.
Wonderful new world of work
In order to create a real understanding of the benefits of agile working methods, you need your own experiences and practical hands-on experience. The lasting impressions and common insights strengthen the cohesion permanently and create the often urgently needed awareness for common entrepreneurial goals - even if this happens first on the meta level "cooking". Once employees, executives and management have developed a common understanding of the advantages of agility, they can also use these aspects in a concentrated way for the future viability of the entire company..
Further information can be found under the following link:
www.agile-kitchen.com
« Back to overview