Certified Project Manager (IAPM)
Get certified in traditional project management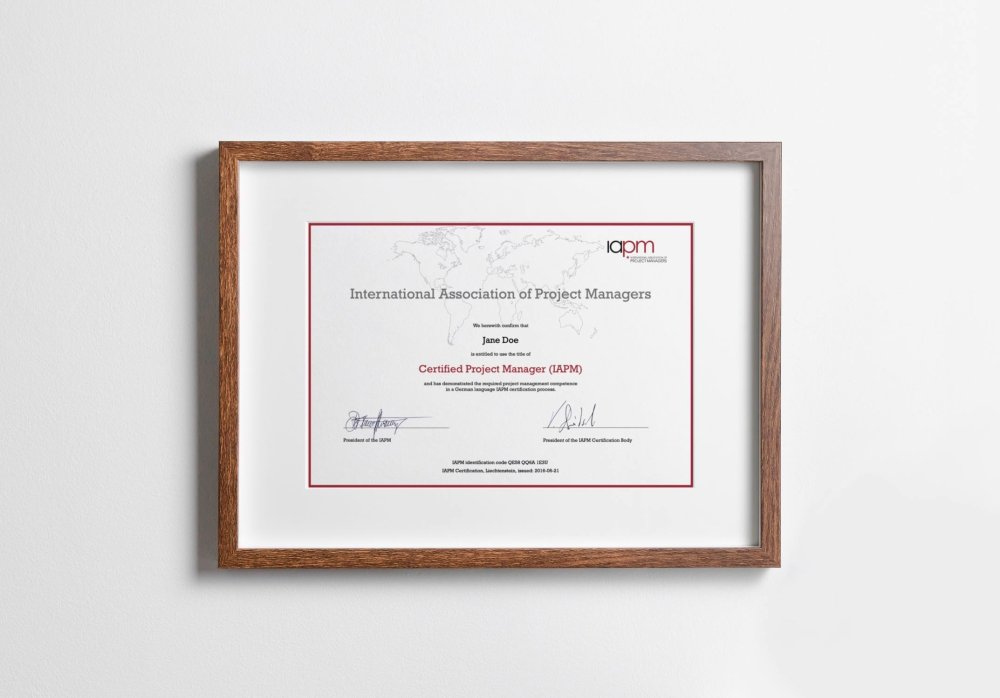 The certification for project managers in the traditional field
Do you already have basic knowledge of traditional project management? Then expand your portfolio with the "Certified Project Manager (IAPM)" certification level!

What are the advantages? This certificate is recognized worldwide and valid for life - no expensive and time-consuming recertification is required. To make the certification accessible to everyone around the globe, it is taken entirely online and preparation can be done at an individual pace.

The certification attests to your knowledge of hard and soft factors of project management. With this certificate you demonstrate not only that you are technically capable of managing a project, but also that you have interpersonal skills.
Frequently Asked Questions about this certification
Who should take the certif​ica​tion?

People who want to pursue a career as a project manager or are looking for a certification in project management.
Is project expe​rience requir​ed?
Where is the certif​ication exam taken?

Online via Classmarker (stable internet connection required).
You can use all major operating systems or smart devices.
What are the exam contents?

The questions are multiple-choice questions with one or more correct answers and right/wrong questions.

Project Check
Project File
Project Enviro​nment
Stakeh​olders
Project Charter
Steering Committee and Core Team
Commun​ication
Creation of the Specification
Creation of the Phase Model
Creation of the Work Breakdown Structure

Work Packages
Process and Time Schedule
Cost Breakdown and Budget
Risk Analysis
Sub-Pr­oject Manager and Work Package Owner
Project Organi​sations
Project Start-Up
Project Review
Project Close Out
Soft Skills

You don't know the terms yet? No problem, our web-learning platform will help you learn everything you need to know. You will find our recommendation for optimal preparation below.
How many questions need to be answered and how much time do I have?
What is the percentage of correctly answered questions to pass?
Can the exam be retaken?

Yes, you can repeat the exam twice with new questions. After not-pa­ssing the exam the second time, you need to wait 12 months before taking the exam a third time.
Costs will be re-inc­urred.
What does the certification cost?
The fee depends on your citizenship. This ensures that project managers of all nations can afford our certifications. Our certifications are offered without preparatory training. You can find our recommendation for optimal preparation with self-study further below.

Please select your citizenship to view the fee that applies to you.
Please note:
We use commas as decimal separators instead of dots.
Further information
can be found here
.
The benefits of the "Certified Project Manager (IAPM)" certification
Once certified, always certified. Our certificates are valid for life - there is no recertification, which generates recurring costs.
Neutral, objective certification through randomised exam questions in the online exam process.
IAPM-certified project managers have clear competitive advantages over those who are not certified, and certification can be a career stepping stone.
Fair prices - we calculate our fees on the basis of the gross domestic product of the country of which the candidate is a citizen.
Extensive opportunities for independent preparation with our free web-learning platforms.
Getting certified
The optimal preparation with self-study
Work through all the chapters of our web-learning platform. Read the stories, do the transfer project and go through "test yourself". It is useful to take some notes.
Once you have done this, register for the self-test in traditional project management. This is neither mandatory nor included in the fees, but we strongly recommend taking it to identify knowledge gaps and familiarise yourself with the structure of the certification exam (FAQ What is a self-test?).
Take the self-test as a mock exam. Afterwards you'll receive a feedback by our support team, which gives you information about potential deficits. Focus on these deficits by using the web-learning platform.
Repeat everything you have learned and once you feel well prepared...
... take the Certified Project Manager (IAPM) certification exam.
Have you got another question?
You're very welcome to contact us if you would like us to answer any further questions about "Certified Project Manager (IAPM)" certification.

You don't want to wait for an email? You'll find (almost) all the answers to the Certified Project Manager (IAPM) certification
in our FAQ
.
You have contacted us and have been waiting for an answer from us for more than three working days?
Click here for further information
.