Tips for Management Interviews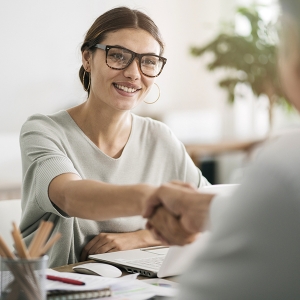 18.03.2019
- Job search is not only an issue for people who have just left university and are just starting their careers, but basically for anyone who wants to make professional progress and develop themselves. Especially in management and especially in project management, where there are more project-related contracts and assignments than in other areas, the active search for a new job is not uncommon. In project management, it is particularly important to prepare for a specific interview. Of course, lawyers, surveyors and sports equipment salespeople also have to prepare for their interviews. But in the project management the next position can be fundamentally different from the preceding one and nevertheless one is perfectly suitable as an applicant under circumstances. To prove this requires a little more targeted preparation.
Preparation for the new position
Of course, everyone who wants to apply for a job should know their own documents very well. If you have any questions concerning your CV or a position or activity described in it, you should be able to answer them without getting bogged down. If you apply for a high management position in project management, you will probably be judged even harder than if you applied for a position in lower management. Prepare for the interview by taking a closer look at the company and especially the project you are going to be involved in. In many cases this is already apparent from the job advertisement. Is it a major project that is now starting and for which skilled workers are needed? Is it about a universal job in project management, where you have to lead or coordinate different projects? Which corporate culture is cultivated in the company and can you fit into it? Your interviewer should notice that you are really interested in the position. So please don't rave about your last million-dollar project, in which you successfully dealt with all the details for four years, if your new job consists of taking responsibility for seven smaller parallel projects and delegating personnel in the process. One mistake that is often made is to concentrate too much on the past or present during the interview because you feel confident about these issues. Always try to think and speak future-oriented during the interview and also ask questions that are specific to the new position.
Realistic but positive assessment
Many employees of the Human Resource department know that managers like to overestimate themselves. But it is also quite natural and certainly also necessary that you present yourself as positively as possible in the interview. But don't forget to stick to reality. Analyse your strengths and weaknesses in advance and discuss both in the interview. You should be honest about your specialist knowledge. You will certainly also have evidence of this in the form of certificates and proven professional experience. With soft skills it gets a little more difficult - but be aware that nobody will believe you that you have no weaknesses. Are you sometimes a little quick-tempered? You are not the type for long concentrated marathon sessions? Do you tend to forget something under stress? Then admit it and at the same time describe how you deal with it. You meditate daily to become more relaxed and make progress. You divide your marathon sessions so that you can master them more easily. You make daily to-do lists so that you don't forget anything, even in stressful situations. This is humane, understandable and makes you look positive in dealing with your deficits.
Correct communication
Despite all the realism, an interview is always an opportunity for you to present yourself. Use this opportunity! Show the other person that you can talk, that you can convince, that you can make competent statements and that you can appear confident. In project management, it is particularly important that the manager can get others involved and get the team to pull together. Present your personnel management strategy and tell us about an earlier project where something worked particularly well. Tell about your successes, but not too excessively. But don't get too stuck in the past by yourself - the new job should be the focus. Gestures, facial expressions and body language are just as important as what is spoken. If you haven't yet dealt with this topic, then it's high time. It doesn't matter if you study certain things, such as your professional career. Also an anecdote or the famous "greatest professional challenge", which many companies ask for in a conversation, can be arranged beforehand and then certainly report about it. Highlight facts and experiences from your CV that you find helpful in your new job. However, taking file cards or notes with you, as in a presentation, seems out of place in an interview. It should remain nevertheless a rather informal and casual discussion.
The usual questions
There will always be questions concerning your career. After all, the new company wants to know what you can do and where and how you have already proven it. You can definitely prepare yourself for this. It's also worth thinking about why you haven't considered certain professional aspects - especially if one of these aspects is suitable for the new job. You didn't want to? Or have you perhaps not had the opportunity to do so and are looking forward to the new opportunity? That's what makes the difference. Questions about your leadership style are not uncommon. Think carefully about how you would describe your leadership style and, if necessary, adapt your description to what you have heard about the corporate culture of the new company. You may need to adapt your style in this direction.
Qualified project management certifications can give you the edge over your competitors in a job interview. The IAPM project management certifications are internationally valid and recognized.
Here you will find all our offers at a glance.
« Back to overview