Beatrice Rich and Prof. Dr.-Ing. Ralf Woll receive BTU Teaching Award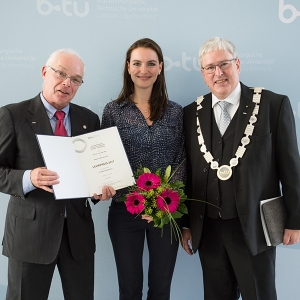 23.10.2018
- We congratulate Beatrice Monique Rich and Prof. Dr.-Ing. Ralf Woll from the Chair of Quality Management at the Brandenburg Technical University Cottbus for their module "Project Management".
The BTU Teaching Prize is awarded once a year to university lecturers in recognition of their exceptional commitment. Modules are proposed by students and lecturers. Subsequently, the selected modules will be presented to a jury in a public university presentation and evaluated according to defined criteria. The module by Rich and Prof. Dr. Woll stood out from three other nominated modules and convinced the jury.
The module project management addresses itself to studying of numerous fields of studies, like industrial engineering, electro-technology and mechanical engineering. It is structured in many ways - the classical lecture is supplemented by seminars, a project and self-study. These different teaching formats and the practical relevance convinced the jury in the end.
We are especially pleased about this award, because Mrs. Rich and Prof. Dr. Woll work for the IAPM as Network Officials of the Network University, who have the contents of their module checked by the IAPM. Once the students have passed the Project Management module, they can obtain the Cert. Junior Project Manager (IAPM). In addition, students can take the module Concepts, Methods and Techniques for Project Management and after successful completion of the certification Cert. Project Manager (IAPM).
You can download the original article here.
You are also interested in the certification to Cert. Junior Project Manager?
​Register directly here.
photo credit: ​BTU Cottbus-Senftenberg
« Back to overview