How external consultants can make change management successful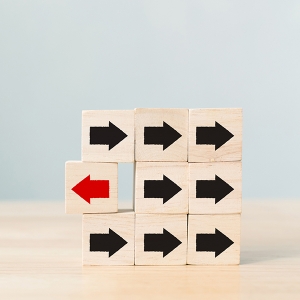 06.08.2018
- The blog of the IT information and news site IT-Daily.net published
an article about successful change management and external consultants
, in which the author deals with the role of consultants in times of globalization and digitization. These two circumstances continuously determine and transform the working environment of most people. Executives and managers everywhere are busy recording, analysing and responding to the current consequences of digitisation and globalisation. Restructuring is initiated and evaluated, forecasts for the future are prepared and repeatedly changed. Below is a summary of the article.
Designing modernization processes from the ground up
Especially in the IT sector, the effects of global and technical changes are quickly becoming apparent. Anyone who is not in a position to react quickly as a manager here will soon be a thing of the past and can watch familiar structures become obsolete and impractical. It is extremely important to involve all employees in the ongoing modernization processes at an early stage so that changes are compatible, fast and efficient, but at the same time are supported by all. A study conducted by McKinsey did reveal in 2017 that only about 3% of all companies in industry and commerce are completely satisfied with their change processes. So there is room for improvement almost everywhere.
The role of interim managers
One way to ensure communication in a change process is to appoint an interim manager. In this case, an external manager can act as a kind of coach or consultant and ask the questions that need to be asked. If the focus is on questions and answers and not on decisions made from above, the process is greatly facilitated. Employees at all levels are involved in the processes, take an active part in shaping and ultimately contribute to decisions. In the eyes of all, change will eventually become a good, jointly developed idea. Interim managers who know their job and are able to initiate and implement change in a compatible and significantly more efficient manner using certain questioning techniques hand over the field to the manager originally responsible at the end of the process.
Compared to an external company, it is often easier for many employees to criticize, express wishes and formulate thoughts that might be perceived as criticism in other situations. In this way, many more ideas and suggestions come to light and can be discussed or even implemented.
The perfect time for change
It is a great challenge to determine the time for the change process. In addition, change is not enough, because several change processes will have to be initiated at ever shorter intervals, in different departments and at different levels - sometimes with overlaps, often with mutual effects. In large companies, change processes often require the full-time energy of several employees. Decisions have to be made more frequently and the need for change leaves little room for manoeuvre. Often there is not much time left for planning and preparing the process. Here too, external consultants can often be the solution, because they have a neutral point of view and are often better able to judge which processes are more urgent than others. You have experience with change and can introduce valuable techniques that save time and promote efficient solutions. Especially when a change process has to be implemented quickly, there is a danger that internal managers fall into blind actionism. Change managers or interim managers seem to be a good solution, which according to an interim management report from 2017 will be used by almost one third of the companies.
Situation analyses as an important tool
A change manager usually approaches a project with a so-called hands-on mentality. It involves all employees in the procedure right from the start. A component of hands-on consulting is a holistic situation analysis in which all affected persons and departments must be involved. In complex projects, far too many factors interlock so that it is hardly possible to consider individual areas separately. All process steps must be based on this and interlock. In this way, all employees also have an influence on success. You see the many steps and can get used to it.
Bringing change into people's minds
Through small steps, the change in the minds of the individual affected persons is better established. Small steps are easier to process and understand. If a suggestion for change comes from the outside from one day to the other, it often encounters incomprehension and rejection. This leads to unproductivity, bad mood and mistakes. In addition, creativity is blocked and the new system can never be used as it was intended. The involvement of all relevant employees in the change processes increases acceptance and makes change possible in the first place.
« Back to overview