FOLLOW-UP: Project Manager of the Year 2016 Award presentation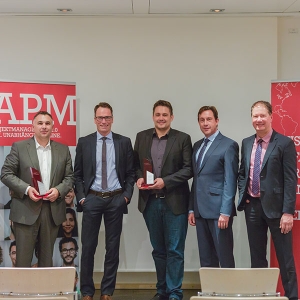 23.11.2016
-
The IAPM's Project Manager of the Year 2016 Award was presented on 11 November, attended by a very friendly, welcoming and sincere group of Consorsbank employees. We were met at reception by award winner Benjamin Hübler, who has been part of the project management team at the BNP Paribas subsidiary's Nuremberg branch since last April.
Benjamin was really happy to see us, partly because his nomination for the award came as a complete surprise to him. "Before I joined Consorsbank I had been a project manager at various advertising and communication agencies, so my first thoughts when I started out here were: What kind of personal changes do I have to make so I can adapt to the day to day operations of a company like this? How does the banking sector expect me to conduct myself?" But Benjamin soon realised that his best policy was to be authentic rather than trying to act out a role. This realisation made it much easier for him to find a solid footing in his new work environment.
Not every project manager is a Porsche
The IAPM believes that the soft skills Benjamin demonstrated make the difference between a good project manager and an excellent project manager. Dr Roland Ottmann, Vice-Chairman of the IAPM commented, "A truly great project manager excels in three areas of project management: theoretical project management, practical project management and personal conduct in a project environment." It's very unusual for someone to excel in all three.
"Many people have extensive project management knowledge, but they aren't necessarily good project managers," added Ottmann. "Let's take the Porsche analogy. If you want to be the best on the road, you need more than horse power and torque. You also need traction. In projects, that's the ability to put your know-how into practice. It's the difference between a Porsche 911 turbo and a sedate limousine."
Hübler has demonstrated his ability to put his know-how into practice in projects. One of the things that make him so successful as a project manager is his ability to empathise. This quality is what enabled him to get the project team and the external partners on the same side – despite their different objectives – and achieve an outcome that all the stakeholders are happy with.
Facilitator and confidence inspirer
Hübler's line manager Dieter Schill, Senior Team Head at Consorsbank, believes that's one of the reasons why Benjamin is perfect for the Consorsbank team.
He commented, "Benjamin's approach to project management is our approach: targeted, cooperative and empathetic. He differs to some extent, though, because he has a lot more empathy than some of his more argumentative colleagues. He also has a special charisma that inspires people to trust him and have confidence in him, yet he's still a very determined person." It's astounding how skilfully Hübler navigated his project team to a successful close-out in the given timeframe.
You don't get to be Project Manager of the Year every day
Dr Hans Stromeyer, Chairman of the IAPM, presented the Project Manager of the Year 2016 Award to Benjamin and another award to the company representatives Dieter Schill and Kai Friedrich, Branch Manager and Vice-Chairman of Consorsbank, in a small ceremony attended by around 30 Consorsbank employees. Friedrich was obviously very pleased:
"Project Manager of the Year isn't something you get to be every day and I'm very proud that one of our employees has earned this title for us – particularly since the project was one that I initiated!" Although it had already got off to a good start before Hübler joined the team, it didn't really gain any momentum until he took over as manager. "The project shows how important our policy of flat hierarchies and agile project management practices is – and that makes me very happy."
What advice does Benjamin Hübler have for other project managers? "Don't assume the role of a strict project manager," said the brand new award winner. "Being yourself makes you more credible and helps you gain your team's and the customer's trust. And you'll find out a lot of things that people mightn't otherwise have told you, many of them important to making the right decisions and assessing potential consequences."
The agile trend has advanced beyond the IT sector
On the subject of agile: Consorsbank hasn't just introduced flat hierarchies, it's also planning to extend its agile project management activities and phase out the waterfall model.
IAPM Chairman Dr Hans Stromeyer emphasised the importance of agile methods in his speech, proposing that, "Agile project management is establishing itself as the standard. It's moved beyond IT and has been adopted by many other sectors, even the regular business community." Now the challenge is for the organisations to introduce an agile mind-set. The banking and financial services sectors are pioneers in this respect, followed by the public services and management consultancy sectors.
Agile project management is the only model that empowers project managers to overcome major future challenges. They will be dealing with increasingly demanding customers who don't always know what they want. In this kind of a scenario, agile is the only option. Writing plans doesn't make sense in today's world. It wouldn't come as a surprise if the construction or automotive industries introduced Scrum managers because they've already dabbled with agile. General Motors has also already provided training in agile methods to all its managers.
« Back to overview