Book review. Project Manager by Schelle, Ottmann, Peiffer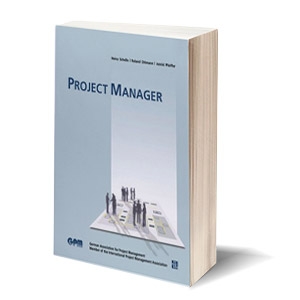 13.03.2015
-
General information about the book
The book is an excellent standard reference work on operative project management topics providing 560 pages of essential and practical knowledge. It describes the basics of project management and includes an excellent bibliography of more detailed reading material. Costing CHF 62 (EUR 55), there is nothing comparable to ProjectManager currently available.
Summary: Excellent value for money!
Content summary
Professional project management is the key to successful projects and an increasing number of companies are now relying on project management organisational structures and methods. The IAPM International Association of Project Managers certifies the project managers who are necessary to ensuring that these structures and methods work.
The book provides the project manager with all the knowledge necessary to obtain certification, i.e. it covers the IAPM's conventional project management certifications (Certified Junior Project Manager, Certified Project Manager, Certified Senior Project Manager). ProjectManager not only offers a comprehensive and well-researched introduction to the field of project management, it also represents a highly advanced training tool for project management professionals.
The book explains the world of projects in six different modules:
A Project and project context
B Process models
C Operative project management
D People in projects
E Single projects and project environment
F Implementation and optimisation of project management
It therefore covers all IAPM International Association of Project Managers requirements and reflects project management practices.
Style description
The book is a comprehensive standard reference work that is structured as an academic textbook. It has a convenient format and a logical layout.
It describes the complex elements of project management and is designed to help project managers prepare and revise for certification examinations. The self-assessment tools (knowledge, awareness, skills, management) and the detailed cross references make it ideal for this purpose.
However, the book also critically examines each module to encourage the reader to go into specific subjects in more depth.
It is rounded off by a comprehensive case study for the reader to work on and an extensive glossary.
Connection with project management
The book describes all key elements of project management in the necessary detail.
Basic principles of project management
The basic principles are set out comprehensively and effectively. All phases of a project, from the identification of objectives to project close-out, plus adequate phase-specific activities to be performed during the project, are described in detail.
Reference to the fact that certain activities, such as the risk analysis, have to be performed several times during a project is very useful because risk exposure can change during the course of the project and have an impact on its success.
The book also provides a detailed and comprehensible description of how to prepare a network diagram, which makes a key contribution to the reader's understanding of scheduling tools.
Soft skills
Since the human factor plays an important role in projects, the book isn't just limited to hard facts. It also adequately covers soft skills such as social competencies.
PM software
The information about too much value being attached to project management software is set out realistically without glossing over the benefits.
Tip
This comprehensive standard reference work on project management provides a solid knowledge base to students of project management and serves as a reference tool for experienced project managers whose projects are stuck in a rut.
The taxonomy allows the reader to assess his or her own project management knowledge and experience. The self-assessment can be performed any number of times. For example, it can be used before and after going through the text book to directly measure learning performance.
Use ProjectManager as a textbook when preparing for certification or for reference purposes in your current project.
Authors' biographiesHeinz Schelle
Heinz Schelle studied political economics in Munich. He graduated with a PhD in 1968. From 1969 to 1975 he was employed at Siemens AG in the Central Research and Development Division, where he headed a laboratory team that was involved in projects relating to management consulting and project management methods. In 1975 he was appointed to the Chair of "Business Economics with Special Emphasis on Project Management" at the Faculty of Computer Science of the University of the Armed Forces in Munich. In 1979 he co-founded the GPM German Project Management Association and was a member of the GPM board for 19 years. During this time, he was responsible for the agendas of around 25 congresses and symposiums, and published some 60 books and essays on the subject of project management. He was appointed Honorary Chairman of the GPM in 1998.
Roland Ottmann
Roland Ottmann studied mechanical engineering, business administration and management. He holds a Masters in Business Administration (MBA) from the Henley on Thames Business School (UK) and a Ph.D. from a University in Lille/Paris (France). He has been working as project manager, project management advisor, coach and trainer since 1985. Since 1992 he has been Managing Director of Ottmann & Partner GmbH, a management consultancy firm. And since 1993 he has been a project management coach. Roland Ottmann was Chairman of the 'Fachverband Projektmanagement' project management association in the BDU (German Association of Management Consulting Firms). For several years, he represented Germany as member of the Council of Delegates of the International Project Management Association (IPMA), as well as being Executive Board Officer and Vice-President of the IPMA. Between 1996 and 2002 Roland Ottmann was a GPM Executive Board Officer and from 2002 to 2006 he was its Chairman. He was the initiator and project manager of the German and International Project Excellence Award and the Project Excellence Model, project management award assessor trainer and member of the award jury. Since 2012 he has been Chairman of the IAPM International Association of Project Managers' Council of Experts, where he played a key role in the development of the association's certification guides (IAPM PM Guides) for its Project Manager, Agile Project Manager and International Project Manager certifications.
Astrid Pfeiffer
Astrid Pfeiffer is a political science graduate who worked as a journalist at the Süddeutsche Zeitung newspaper while still at university. After completing a post-graduate IT/Internet course in 1998, she worked as a journalist and editor of business magazines and trade publications (print and online), and for the Die Welt broadsheet. In recent years, she has come to specialise in the fields of project management, IT and business. She has also been working as a communications and media consultant to businesses since 2001. Today, Astrid Pfeiffer is mainly involved in the production and management of project management publications and 'sustainable management', which means forward-looking companies that proactively unite economic, ecological and social requirements in their risk control strategies.
Buying the book on amazon:
www.amazon.de/Project-Manager-Heinz-Schelle/dp/3924841306/ref=sr_1_1?ie=UTF8&qid=1426243737&sr=8-1&keywords=Project+manager+ottmann
« Back to overview