Harald Kiendler is IAPM Project Manager of the Year 2014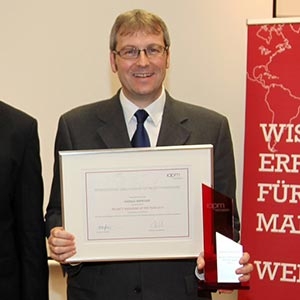 17.12.2014
- The IAPM International Association of Project Managers is delighted to present Harald Kiendler, Bogies Development Group Leader at Siemens AG Austria, Mobility, Mainline Transport, Bogies in Graz, with the IAPM Project Manager of the Year Award.
The IAPM selects its Project Manager of the Year on the basis of a comparison of the best Certified Senior Project Manager profiles over the last twelve months. It has chosen Harald Kiendler for several reasons. Firstly, he gained a distinction in the comprehensive examination for Certified Senior Project Manager (IAPM) certification. He also received an extremely high score compared with all other certificate holders for his experience as project manager. The decision about who to present the award to is based, firstly, on the criteria of project management knowledge and experience. Harald Kiendler possesses both, which is why he has such extensive project management competence.
As an engineering group leader, Harald is responsible for the development of rail vehicle bogies. In this line management function he is multi-project manager with responsibility for numerous concurrently implemented individual projects. This means that, in addition to his line management responsibilities, he regularly manages complex investment and development projects, such as the project for the "Establishment of a pressure rig to test height settings and wheel load deviations on bogies for series production at the Graz site" or the "Bogies for S-Bahn suburban trains in Brussels" project. He is involved in drafting statements of work, developing and validating bogies and for the technical supervision of series production operations, as well as deadline and budget adherence. It is therefore all the more remarkable that most of the projects he manages extend over a period of one year or more and are of strategic importance for the Graz site.
However, the IAPM also considers the third criterion of the project manager's personal conduct in a project environment in addition to experience and competence.
Another of the award winner's strengths is his outstanding social competence in his dealings with project team members and customers. He recognises their individual strengths and weaknesses without ever losing sight of team balance and project objectives - so Harald Kiendler is a leader in the truest sense of the word. He is a manager who listens to people, gives them plenty of freedom and trust, ensures a positive work climate and diplomatically guides them in the right direction. Thanks to his professional and personal competencies, he always keeps his team and the project on course, however rough things get, steering it towards a successful outcome for all involved.
Harald is always willing to help out his project team, always fully up to date on project developments, never loses his cool and always focuses on the common good.
Project customers appreciate his high level of identification with his projects, his diplomatic skills and his unfailing reliability. He has internalised the knowledge that closing out an excellent project to the customer's deadline guarantees both the success of the project and the success of his organisation.
Harald's managers appreciate his many years of experience in the development of bogies and in project management, his excellent social skills, his organisational talent and, in particular, his ability to see the big picture so that the entire project can be strategically optimised from both a technical and commercial perspective.
For all of the above reasons, the IAPM has decided that Harald Kiendler has all the qualities of an ideal project manager and that he should receive the IAPM International Association of Project Managers' Project Manager of the Year Award.
We hope that many other project managers will follow his example, that he will continue to enjoy project management and be successful in all of his projects.
Photo: fe'press© Presse- & Fotoagentur - Inhaber Manfred J. Schusser
« Back to overview