Losers and winners of digitisation
05.11.2018
- In the online magazine Focus Money, guest author Alexander Burstedde writes about digitisation and its consequences for Germany. He explains his thesis, according to which there will be some losers, but in the end the general public will be the winner. As an employee of the Competence Center for the Securing of Skilled Personnel at the Institute of the German Economy, he experiences on a daily basis how companies struggle with digitization, accept the challenge but are also sometimes disillusioned and give up. Nevertheless he is convinced that the change in the economy is good and right and that it will bring enormous advantages for the general public. In the following article we give you a summary of his contribution "There will be losers in digitisation - but in the end it benefits us all".
Read more »
Beatrice Rich and Prof. Dr.-Ing. Ralf Woll receive BTU Teaching Award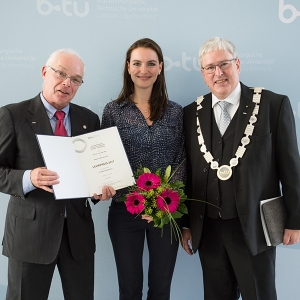 23.10.2018
- We congratulate Beatrice Monique Rich and Prof. Dr.-Ing. Ralf Woll from the Chair of Quality Management at the Brandenburg Technical University Cottbus for their module "Project Management". The BTU Teaching Prize is awarded once a year to university lecturers in recognition of their exceptional commitment. Modules are proposed by students and lecturers. Subsequently, the selected modules will be presented to a jury in a public university presentation and evaluated according to defined criteria. The module by Rich and Prof. Dr. Woll stood out from three other nominated modules and convinced the jury.
Read more »
IAPM mentioned as certification body at Online PM Courses
18.10.2018
- The page "Online PM Courses" by Dr. Mike Clayton offers various courses on the topic of project management, including traditional and agile project management. In addition to these courses, a lot of information and materials are available on this site for those interested in project management. Especially worth mentioning are the short videos "Project Management in under 5". Dr. Clayton explains relevant project management topics in less than five minutes. These videos are published monthly and are ideal for getting an insight into a specific topic. For those project managers who prefer to read rather than watch videos, the site provides a number of articles.
Read more »
Reverse Monitoring - new ways of learning
10.10.2018
- Guest article by Julian Knorr, IAPM Network University Official and founder and board member of Onestoptransformations: At the age of 24, my school days were not too long ago. Nevertheless, I grew up in a school system in which there was a very clear distribution of roles: the "knowing and older teacher" explains to the "younger and untaught pupils" topics and facts which the pupils (mostly without questioning this at all) should regard as given and internalise. This system is basically the same for further training in (traditional) companies: Younger employees are trained by older managers (classical hierarchy system) and the knowledge is imparted top-down. In addition, experienced coaches and trainers are engaged to give the teams additional knowledge and new impulses.
Read more »
Berlin in September 2018 - IAPM Recognised by the Federal Government
28.09.2018
- The project management standards and methods of the International Association of Project Managers (IAPM) are recognized by the Procurement Office of the German Federal Ministry of the Interior: In the public tender of the Procurement Office of the German Federal Ministry of the Interior for "Consulting and Support Services for Project Management", the competitive tendering procedure were published. The tender is divided into three lots: Individual project management, large-scale and multi-project management as well as project management of security-relevant projects.
Read more »
Blockchain technology and its role in project management
17.09.2018
- You may have heard the term blockchain in connection with Bitcoin, for example - but what role can the use of blockchain play in normal companies? Is this a technique that project managers have to deal with? In recent years, project management has been shaken by many new developments, techniques, strategies and methods. Some novelties establish themselves, others go down in the history of management as nice attempts. So what is blockchain technology, what does it have to do with project management and is it worth dealing with this phenomenon? In the modern economy, cost reduction, increased efficiency, transparency and digitization play a decisive role.
Read more »
Leading the Digital Transformation to Success
07.09.2018
- In a guest article Ines Bahr writes about the digital transformation in the company Capterra: If a company misses digitisation, it risks significant competitive disadvantages compared to its digitised competitors. Large companies have recognised this and are already supporting their business processes with cloud systems. Many start-ups also use cloud technologies and benefit from the numerous advantages. However, German SMEs in particular are still struggling to outsource processes to the cloud. Many companies gallop directly into software selection without having set up a digitisation strategy and, above all, without really having understood digitisation.
Read more »
Success in the smart city environment with agile networks
27.08.2018
- On the online platform Kommune 21, Dr. Andreas Zamperoni, Principal Project Manager at msg, and Michael Kandel, Senior Manager at m3 management consulting, report about their experiences with Smart City and agile networks. m3 management consulting is a member of the msg group. The article deals with how agile management can be used to establish successful network projects that can make a decisive contribution on the way to the Smart City. The web platform Kommune 21 deals with all topics of interest to the modern community, including of course the concept of the Smart City. Below is a summary of the article.
Read more »
Digitisation is driving companies forward
16.08.2018
- Digitisation and modernisation are phenomena that are penetrating ever faster into more and more areas of the economy and everyday life. In fact, the constant change has never been more noticeable than it is today. Industry 4.0 is no longer a vision of the future, it is catching up with us quickly. Companies of all industries are therefore forced to deal with digitization, globalization, modernization and new technologies if they want to remain competitive and economical. The term industry 4.0 refers to a summary of many phenomena that develop simultaneously and have common intersections. The Internet plays a role in many processes - not only as a source of information but also as a sales market, advertising space and communication instrument.
Read more »
How external consultants can make change management successful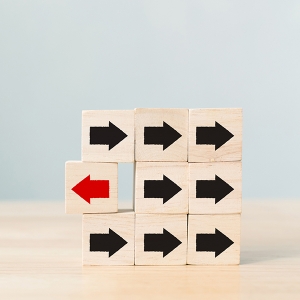 06.08.2018
- The blog of the IT information and news site IT-Daily.net published an article about successful change management and external consultants, in which the author deals with the role of consultants in times of globalization and digitization. These two circumstances continuously determine and transform the working environment of most people. Executives and managers everywhere are busy recording, analysing and responding to the current consequences of digitisation and globalisation. Restructuring is initiated and evaluated, forecasts for the future are prepared and repeatedly changed. Below is a summary of the article. Especially in the IT sector, the effects of global and technical changes are quickly becoming apparent. Anyone who is not in a position to react quickly as a manager here will soon be a thing of the past and can watch familiar structures become obsolete and impractical.
Read more »