From Schwabach to Stuttgart – project disasters big and small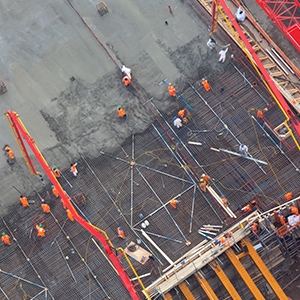 07.07.2016
- Stuttgart 21 is a project, like the Berlin Airport project, that is notorious for its poor stakeholder management, for swallowing up money like a bottomless pit and for having vast numbers of opponents among the general public.
The Stuttgart 21 underground rail station was in the news recently because it has a track gradient of 15 ‰, which is six times as high as the admissible gradient (2.5 ‰). Although that figure may not sound like much, it actually means a rise of around 6.5 metres over a distance of 400 m, which is equivalent to the height of a house.
This gradient is a major safety defect posing serious risk of injury to passengers such as children in push chairs, people with walker-rollators and wheelchair users. It also involves a substantial risk to train traffic, because there is nothing technically preventing the trains from rolling away - particularly modern trains with low rolling resistance. Even if international rather than German standards are applied, the gradient is many times higher than the permissible figure. In this sad respect, Stuttgart 21 tops the international table as the railway station with the steepest track gradient in the world.
Even Cologne Central Station, where the gradient is far lower than that of Stuttgart's underground station, has seen more than 20 accidents in which people were injured getting in and out of trains since 2010.
So Stuttgart 21 doesn't ensure the safety of train passengers and platform users, the trains require longer braking distances and there is nothing technically preventing them from rolling away. How can something like that happen? Why weren't specific guidelines (Section 7 of the German Ordinance on the Construction and Operation of Railways, EBO) complied with or used as the basis for planning? And how could the Federal Railway Authority approve it?
Deutsche Bahn, which is responsible for the construction of Stuttgart 21, hasn't provided any real answers to these questions yet. Activists believe that the construction work should be stopped immediately.
All these events indicate massive technical planning deficits. Is Stuttgart 21 the new BER? Where are many well-qualified DB project managers who should have noticed these defects long ago? And why isn't anyone listening to them?
Disastrous planning doesn't just happen in large-scale construction projects, but also in smaller projects with much smaller project teams and timeframes. Even though these small-scale projects should be far easier to plan, serious problems are not uncommon.
Here's an example. The bridge across the A6 motorway, just south of Schwabach, was supposed to have been demolished on the night of Saturday 21 May. It was planned that the demolition work would be completed after 10 hours by 6 a.m. on the morning of Sunday 22 May to prevent any major delays in Sunday traffic.
But that didn't happen. Concrete hardness tests either weren't performed on the motorway bridge in advance of its demolition, or they weren't adequate, and the project managers underestimated the number of onlookers - so the demolition work took much longer than planned and the motorway didn't reopen for traffic until 3 p.m.
The main problem was the non-existence of an information policy for motorway users. No traffic police were deployed, no diversion was signposted and there were no mobile traffic lights. It was a scorching hot day, and the people who were stuck in the traffic jam for hours had to be given water to drink by Red Cross and St. John's Ambulance Brigade helpers. Some people actually collapsed. And to top it all a vehicle caught fire, which proved difficult to put out because the fire engine couldn't get through to it.
How could this have been prevented? Very easily. With advance planning. The company performing the demolition work should have removed a piece of the bridge core for assessment, prepared a technical environment analysis, included a possible delay in the work timeframe and taken the necessary precautions.
Projects fail all the time - both big ones and small ones. Generally, these failures can be prevented by careful advance planning. So, if it's that simple, why do people repeatedly ignore it?
Have you been involved in a similar project? Drop us a line and share your experiences with us.
The IAPM International Association of Project Managers promotes project managers and project management around the world. Let's prevent similar problems happening in the future by discussing the possible options in depth.
« Back to overview