The IAPM Magazine - our monthly update
Since May 2022, we have been publishing our
IAPM Magazine
once a month. This magazine summarises everything that happened at the IAPM in the previous month. For example, you will find all the blog posts we have published, information about the IAPM and what it has to offer, or updates about our partners. The
IAPM Magazines
are always similar, but never the same in design, so there is always some leeway. Anyone who would like to contribute to the
IAPM Magazine
is welcome to contact us to explore the possibilities together.
Contact us via our contact form.

Our IAPM Magazines 2023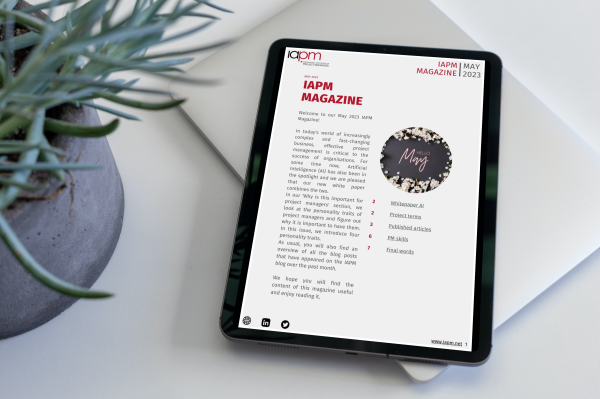 IAPM Magazine May
In this issue you will find a number of blog posts and explanations of the skills that project managers should have. A highlight of this issue is our new white paper "Artificial Intelligence in Project Management: Why you shouldn't do without it".
IAPM Magazine April
This month we have again compiled a number of informative blog posts for you. In addition to our blog posts, we are pleased to introduce a new section that focuses specifically on the soft skills that are important for project managers.
IAPM Magazine March
This month there are many blog articles - because they have taken the place of the Essentials. Among other posts, we briefly present our interesting articles and recommend two books.
IAPM Magazine February
This month's IAPM Magazine focuses on our certifications and the blog posts published in January. Those new to project management will find a wealth of information in this issue.
IAPM Magazine January
For the first IAPM Magazine in 2023, we have three big themes, among others: We published our whodunit advent calendar, the crossword puzzle day happened and our agile web-learning platform was completed.
Our IAPM Magazines 2022
IAPM Magazine December
This month we have prepared a number of articles for you as well as the follow-up to the event organised by the Women PowerUP Network and the IAPM. We would also like to congratulate our partner PMOGA India Hub.
IAPM Magazine November
With this issue we celebrate our half-year anniversary. Thanks to all who have accompanied us on this journey so far. In this issue, three book recommendations await you, as well as something that is particularly important to us: News about our partners.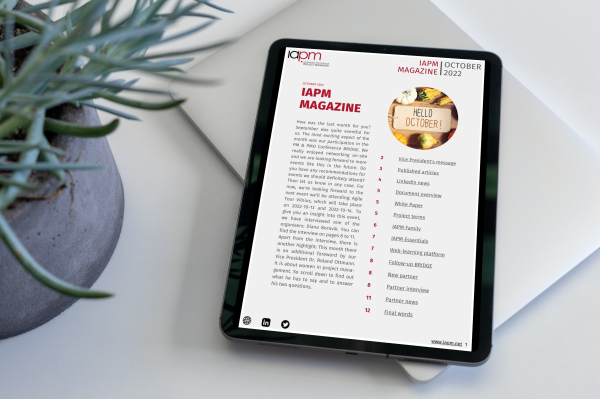 IAPM Magazine October
This month we have a lot of news and some events to share with you. We had an interview with Diana Borovik from Agile Lietuva, our new partner and there is a special foreword this month.
IAPM Magazine September
As always, we have summarised all blog articles we have published as well as many other interesting things for you, including some of the benefits of the IAPM. At the end you will find an interview we had with Marjana Skubic, from the Women PowerUP Network.
IAPM Magazine August
The IAPM has grown by two new Network Officials in the past month and with them we are also represented in two more countries. But that's not all: our certifications are now available as products on LinkedIn.
IAPM Magazine July
The past month held two highlights for us: our new partnership with UNI for LIFE, an institution of the University of Graz, and the release of the final part of our Certified Junior Agile Project Manager (IAPM) web-learning platform.
IAPM Magazine June
In June, we provided you with information on PM software and our web-learning platform. Our highlight among many other topics: The interview with the two organisers of the PM & PMO Conference BRIDGE.
IAPM Magazine May
In our very first issue you can expect some information about the IAPM Magazine itself as well as a software presentation, information about past events, our published blog posts and much more.
---