Intercultural competence in international projects
26.07.2018
- Intercultural competence is required at German management levels and in project management - as can be read in many job advertisements. But what does this term actually mean and how can intercultural competence be acquired and improved? The concept of intercultural competence means much more than just language skills, it includes an understanding of foreign cultures, the ability to communicate and get along well with business partners from all over the world and much more, which makes intercultural competence incredibly difficult to measure and define. If you want to position yourself in emerging companies and in project management at management levels, you need intercultural competence. Residencies abroad have become a must in a world that is moving ever closer together and in which hardly any large company works only at national level.
Read more »
The IAPM White Paper on Resource Management is available now!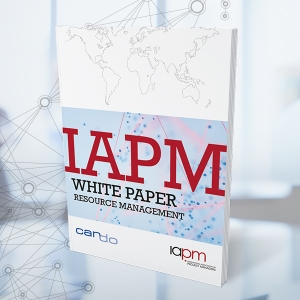 18.07.2018
- Worldwide, the pressure to produce and innovate increases continuously. That circumstance also affects the information and telecommunications technology sector, among others. In order to remain competitive, companies must deploy their employees efficiently to avoid revising or inactivity. This is where resource management comes into play, which is closely linked to skill management - which employees are available and what are their skills? Resource management does not only offer these operational benefits, but also a clear strategic advantage: Project managers and managing directors already know at the planning stage what capacities are available in addition to various projects and daily business.
Read more »
Lean Management: In Search of Optimization
09.07.2018
- Knowledge and the application of lean management are required in many projects - and this form of management is a subject that is highly discussed in the professional world. But what does lean management actually mean? The term and the idea behind it had its origin in the automobile industry in Japan - and already in the 1950s. There, the principle of continuous improvement and the reduction of divisional thinking were called for. The implementation of a so-called "lean production" was generally important. These principles of streamlining were then applied to planning processes, plans, administration, procedures and management in general. Lean Management, which began under the term "Lean Production", is always about improving the entire system. Through lean management, both the administration of a group and its value chain should function more efficiently, faster, leaner and thus more economically.
Read more »
Current trends in project management
25.06.2018
- Project management is a profession that is in a constant process of change. People who choose a career as a project manager should be aware of this. It helps them immensely in their professional career if they are interested in new technologies, innovative methods and creative processes. Some trends arise and remain only a few months, others continue for years and decades and change project management sustainably and continuously. What are the current trends and what do we have to be prepared for? Project manager certification bodies like us, the IAPM, also have to keep up with the times. Current trends are therefore reflected in the preparatory seminars of our trainers.
Read more »
Stakeholder management and the importance for projects
15.06.2018
- Stakeholder management is still one of the most important methods in project management today. The origin of the method is unclear, but it is clear that stakeholder management is an important component of the training courses for all certifications for project managers, including those of the IAPM training partners. Stakeholder management is defined as the handling and analysis of the various needs and interests of all project participants. The various interest groups include not only customers, donors and investors, but also politicians, neighbours, local residents, the press, nature conservation associations, associations or other groups of people who are affected by the project in any way and who could have an influence on the project.
Read more »
How to master digitization with all its stumbling blocks
05.06.2018
- Nicole Basel is Digital Director and reports on impulse.de about her experiences with digitisation as well as her views on this topic and on the reasons why companies fail because of digitisation. Nicole Basel knows the typical mistakes that are made time and again in the various digitisation processes and wants to prevent companies from repeating these mistakes with her article. In the following we summarize her text for you: Concentrating solely on technology is a typical mistake that many companies make. The impulse is understandable: there is a new computer program that suddenly offers new, great possibilities that inspire all employees. Even the decision-makers sometimes get so carried away by amazing software solutions that they buy a software that is truly remarkable.
Read more »
How important a plan B can be in project management
22.05.2018
- Project managers are ambitious in pursuing their goals, continue to develop plans and navigate the often unstable waters of their projects with determination. But despite all the targeted work and pre-planning, project managers should also always have a plan B in hand, because any problems that may arise when pursuing the project goals must not be ignored. A good project manager must therefore always work with foresight – and that means having alternatives to the preferred route up his sleeve. In politics you hear again and again about decisions without alternatives – some people interpret this as comfort, others find it consistent or even heroic. But in project management it is always necessary to take alternative paths. And the task of a good project manager is always to know a viable alternative.
Read more »
Dealing with uncertain factors in the project
07.05.2018
- Increasing project complexity has been a development in project management for many years. Project managers must therefore be able to deal with highly complex contexts and complex projects. Energy-saving concepts, environmentally friendly technologies and increased demands on project performance make a competent project manager irreplaceable, especially since increased complexity naturally goes hand in hand with more responsibility and tasks. While experts, architects and customers only have to look at the area of a project assigned to them, the project manager is entrusted with keeping an overview and keeping an eye on all aspects. This is not an easy task. The degree of complexity of a project increases uncertainty. The larger and more complex the project, the longer the list of risks and things that may go wrong. In addition, all these risks have numerous influences and effects on other project areas.
Read more »
Digitization and security
26.04.2018
- Oliver Schonschek is an IT journalist and technology consultant. Together with Dr. Andreas Bergler, he thought about IT security in an article for the "IT Business" website. He poses the question of whether and to what extent digitization represents a security risk for IT. Digitalization has many advantages and is, of course, unstoppable. In some areas it is progressing at a rapid pace, in others at a leisurely pace, and in some cases is developing in unexpected directions. In many areas, digitization reduces production and wage costs, while productivity increases and new products and services continue to conquer the market. Thanks to digitization, new markets can be opened up and sales increased. Digitisation also brings with it some challenges. IT specialists must be trained and further educated, because hardly any sector develops faster than the IT sector, which has long penetrated all other sectors.
Read more »
Digitisation and how it affects the world of work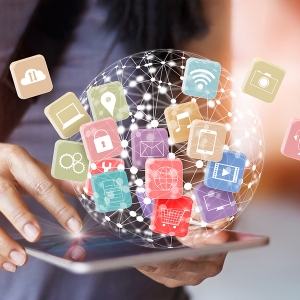 18.04.2018
- Digitisation is THE subject in all industries and almost everyone notices its effects in their workplace directly and indirectly. Especially in an industry like project management you have to adapt to new technologies and digital gadgets almost monthly. A modern project manager is expected to be familiar with the latest methods and technical tools. The effects of digitization are manifold. People, society and the environment often feel changes delayed and not immediately, because digitization is progressing slowly and step by step, so that it is often only in retrospect that everything that has changed in recent years can really be recorded. Anyone who calls a hotline, for example, no longer expects to hear a human voice. Long (more or less) intelligent software has taken over here.
Read more »