InLoox: How to ensure professional project management in every project phase
Optimisation and improvement processes in companies are increasingly leading to the professionalisation of project management. This is because innovation, cost and competitive pressure ensure that processes have to run as effectively and efficiently as possible in order to remain competitive. In this article, you will learn about the advantages of professionalising project management and how an overall solution, such as the Outlook-integrated project management software InLoox, can support you throughout all project phases.
Why is project management software needed for professional projects?
The more complex and demanding projects become and the more team members and stakeholders are involved, the more difficult it becomes to maintain an overview without tool support. Project management software helps you to master this challenge in your daily project work. In addition,
project management software
structures the entire project life cycle, which brings numerous advantages:
Improved communication
Reduced coordination effort
Increased adherence to schedules
Better overview
Time savings
Greater transparency
Avoidance of duplicate work
The term project management software covers many different categories of software that are used to support project teams in the planning, implementation, accounting and documentation of projects. Some solutions cover only parts of project management, while others offer an overall solution. In order to ensure uniform standards throughout the entire project process, it makes sense to rely on an overall solution.
The project management software InLoox
offers such a
complete solution with functions for all important PM challenges
: project planning, task management, collaboration and communication, resource management, document management, mind maps, time tracking, budgets and reports. With InLoox, you can organise and coordinate your projects directly in Microsoft Outlook, on the web and on your smartphone. The unique and
seamless integration into Outlook
ensures high user acceptance due to the simple and familiar user interface, while further interfaces such as to Microsoft Teams, SharePoint or Power BI simplify the
integration into your existing system landscape
.
How can professional project management be ensured?
Projects can be divided into different phases, because depending on the project phase and progress, different to-dos have to be completed. The activities that need to be carried out in the individual phases and how InLoox can support you in each step are presented below:
Phase 1: Project preparation
The first phase of project management is about defining and recording the basic information about the project. The trigger for a project is usually an initial project idea that first needs to be concretised and elaborated. For example, the brainstorming approach with mind maps can help. The project management software InLoox supports you with the integrated mind mapping tool to collect ideas for the project. This way, you ensure that no details get lost and that all project participants can still access the basic project idea with the help of the mind map also after the project has started. You can also generate tasks or a plan directly from the mind map. As a result, initial ideas become project elements with just a few clicks and you create a seamless transition from idea generation to the second phase - project planning.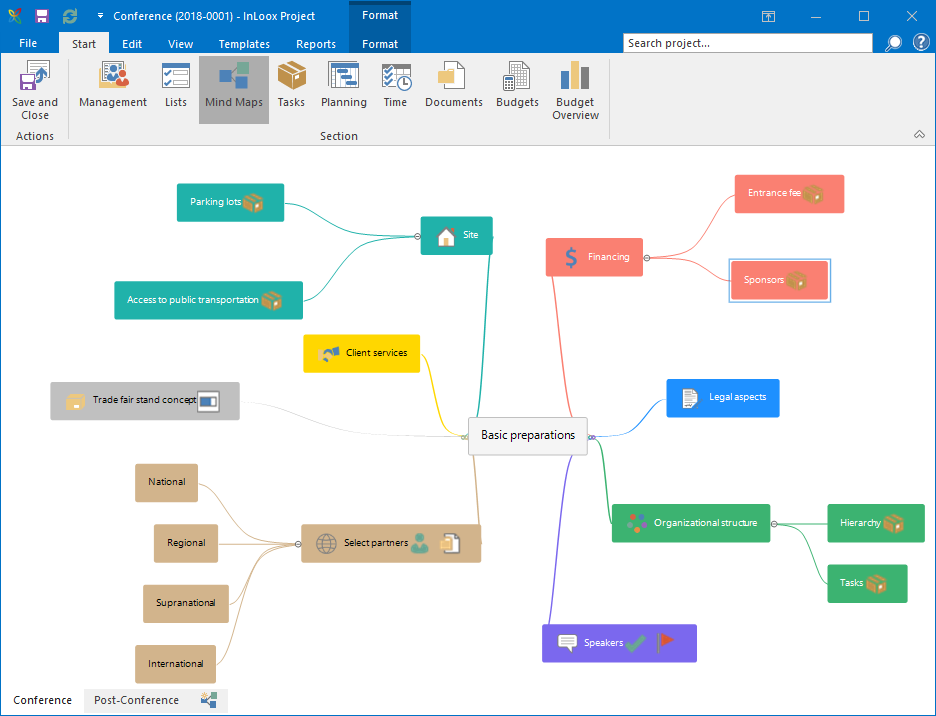 This is a way to work out important key points such as the project goal, project description and project scope. In InLoox, you can also record this initial framework data for the project on the support page. This gives you and the project team access to the most important information about the project at any time.
Phase 2: Project planning
In the second project phase, the project is further elaborated and scheduled with the help of a project plan and tasks.

Time and schedule planning: definition of milestones and due dates

InLoox supports you by offering a Gantt chart in which you can create a detailed project plan and map important deadlines and critical milestones. If you link the individual planning elements with constraints and dependencies in InLoox, you do not have to make time-consuming manual changes to the project plan: as soon as one element shifts, all subsequent elements are automatically adjusted.
The project plan also helps you to visualise how well your resources are being utilised and whether planning and reality match. With the help of the critical path, which you can have displayed in the project plan, you can see at a glance which elements must not be delayed if the project is to be completed on time.

Task planning: define responsibilities

With task planning you get even more in-depth into the elaboration of the project details. In this step, you define the responsibilities in the project clearly and transparently for everyone. InLoox provides you with a Kanban board with which you can clearly display all tasks of your project sorted by status.
Assign tasks and communicate all important to-do information to your project team members via the task description or the note function. The note function enables easy documentation of task processing and thus promotes more efficient and transparent project communication. With the help of the Kanban board, all project participants are always up to date regarding the progress of the individual tasks.

Budget planning: keeping an eye on costs

InLoox also supports you in budget planning: The planned budget is automatically calculated based on the project manager's time and effort estimates for tasks and activities. In addition, you can enter planned expenses in the project. As soon as the costs are actually incurred, you enter them in InLoox and thus have an overview of actual and planned costs at any time. Based on this data, you can carry out a target/actual comparison for your project any time.
Phase 3: Project start
After all the important preliminary work for the project has been completed in phases 1 and 2, phase 3 initiates the start of the project. A kick-off meeting with all those involved in the project has proved to be a good way of bringing everyone up to speed and creating a positive atmosphere and motivation. During the kick-off meeting, the preliminary work is presented to all project participants. InLoox helps you to present all project details in a structured way: For instance, start with the presentation of the project idea in the mind map and then go into detail about the already prepared project and task planning.
Phase 4: Project implementation
Progress control: Identify delays and risks in good time

As soon as it comes to the actual project implementation, InLoox becomes your daily companion. InLoox helps you track project progress and identify risks in time. InLoox is the central contact point for all project information, which is available at any time and from any place. The project team members can independently obtain required details about the project via InLoox and are thus always up to date. This transparency makes project work much easier, as information no longer has to be painstakingly gathered from many different sources.

Time recording: Recording actual efforts

The actual time spent on tasks is also an important issue in project management. In InLoox, project staff can record their time on specific tasks and projects, either directly from Outlook or on the go via InLoox Web App and InLoox Mobile App. With the help of project time tracking, the actual amount of work can be recorded and project managers keep track of costs and resource capacities. The data from the time recording also serve as an important basis after the project in order to be able to better estimate efforts for future projects and to increase adherence to deadlines.

Controlling/ dashboards: Create meaningful status reports

Based on the project data, you can create meaningful project reports with just a few clicks and share them directly with all project participants. This way, relevant stakeholders (e.g. external parties, partners or clients) can be integrated into InLoox and kept up to date via dashboards.
Phase 5: Project completion and evaluation
After project completion, InLoox supports you with project documentation. You don't have to search out receipts or create documents, presentations or Excel evaluations - all data is already available to you in one platform. You have filled InLoox with valuable information throughout the entire project, which you can now export in reports or visualise in dashboards with just a few clicks. Furthermore, you can use this information to learn from it for upcoming projects (lessons learned).
Author: Kathrin Jungwirth is Marketing and PR Manager at InLoox GmbH. After studying business administration with a focus on tourism at the University of Applied Sciences Munich and a stay abroad in Finland, she deepened her editorial expertise in Munich. She has several years of experience in online and content marketing in the B2B environment as well as in public relations.
---
Unless stated otherwise, the images were kindly provided by InLoox.
Keywords: Project management, tip, PM software