Content Marketing Managers' project management tips
The success of any website largely depends on filling it with relevant, engaging, and valuable content. For this purpose, a business needs a specialist who manages this process and develops a content strategy. Such a specialist is a content manager who works closely with a marketer, designer, copywriter, SMM, and SEO specialists. The result of the team's work is engaging material for the target audience. In this article, you'll learn the best tips for running content marketing projects.
Сontent Manager's value in the marketing world
First, content managers are responsible for developing ideas, creating, and optimising all content on the company website. For example, they form a strategy and oversee the day-to-day tasks of implementing it. They are usually part of the marketing department, but they also interact with other management departments.

The term "digital content manager" also refers to them since these specialists are responsible for digital products: target websites, blogs, product descriptions, promotional videos, social media posts, landing pages, and email newsletters. They often lead the team, as well. Second, these specialists ensure that the brand consistently produces high-quality, engaging marketing products for business. That's a lot of responsibility, so it is one of the most critical positions in marketing.
How to become a project think tank
Content is the voice of any company. It can influence whether people have a positive or negative view of the brand, their level of trust, and whether the brand gets noticed. Also, valuable information is the foundation of success for any site. Thus, no matter how unique the resource is, it will not be attractive to visitors without high-quality texts. Most often, the process of filling the content is structured as follows:

SEO specialist prepares the article's subject and assigns the task to the content manager.
Content manager checks the terms of reference and provides it to the сopywriter.
Copywriter writes the material.
Content manager checks the сopywriter's work and places the material on the website.

At first glance, this algorithm seems relatively routine and contains no pitfalls. However, if you go deeper into the process, you will find many nuances and realise that it is not a routine task. But still, if you want to be the brains behind a project, and maybe even the right-hand of an executive, then these content marketing managers' project management tips are for you.
Don't avoid copywriting guidelines

First of all, you should detail the terms of reference. When setting your goals, remember the well-known SMART scheme used in management. Run it through the terms of the task and look at the assignment through the copywriter's eyes. Make sure he understands the task correctly. So, it's better to spend an extra 10 minutes reviewing your terms of reference than waste hours fixing the finished work.

Pay attention to the details

If several people are working on the project, develop a uniform style of content preparation. For example, some users prefer to see a bulleted list in the form of a number with a closing bracket, and others used to see a dot after the designated item. Both are correct.

If you move all the information to one website, one page uses one designation format, and the other is different. So even the dot at the end of the sentence makes a difference! Immediately suggest that copywriters use a single format for lists, headings, and other "free" elements.

Two heads are better than one.

No matter how responsible a team member is, it would help if you still proofread his work. Sooner or later, publishing content without checking can turn into a low-quality article on the site. In addition, an outside perspective on the written text allows one to find typos and other mistakes. So, it's not for nothing that in large media, besides the editor-in-chief, proofreaders check the finished work.

Define your goals

For example, you have an excellent idea for an entertaining, creative blog post or video. Good content managers always set targets. Usually, content managers start precisely with goals, not specific topics, no matter how cool they may be. Content can have many different purposes. For example, you want to get to the top of the SERPs (search engine results page) with helpful content and a solid SEO strategy. Or it may be brand awareness and website traffic. It's essential to define your end goal and then work to achieve it.

Develop a strategy

A content strategy doesn't have to be one-size-fits-all. Much content management has to do with testing, measuring, and adjusting the content. The best content managers create a flexible strategy consisting of small tasks. You should also be familiar with all types of content, including videos, social media, newsletters, and more.

Content managers often write new content, update existing content, create affiliate content, and write posts on other sites. A content manager is a multitasking talent in marketing.

Track your results

To find out how their content is being received, content managers need to measure and then evaluate it. What they measure is based on their goals and tools. Depending on this, there are different metrics that can be used to evaluate the content. We present the most common ones:

Backlinks
Click-Through Rate (CTR)
Pageviews
Repeat visitors
Sales
SERP rankings
Social activity
Time on page
Traffic

Use the right tools

Content managers are organised and creative, but they also need the right tools. A flexible, intuitive Content Management System (CMS) is at the top of this list. The software organises your content from creation to publication to track. It can manage writing, editing, design, URLs, publishing dates, etc. There are many options to choose from, but the most popular ones are WordPress and Magento. The right tools also help content managers track and analyse the results of their content.
Conclusion
It's safe to say that the work of a content manager and his ability to work on projects is vital for every business. This specialist guarantees quality content, as well as organised and planned publishing. And if he also has the
skills of a project manager
, then such a person becomes an indispensable part of any team.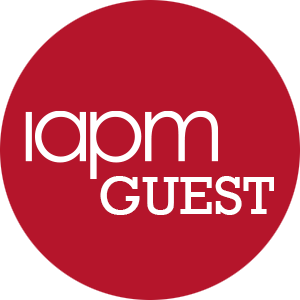 Author: Max Mitchell
is a writer at
BestWritersOnline
and
WritingJudge
, companies are responsible for evaluating writing services. He is very passionate about typing, creating complicated spreadsheets, and consuming an inhuman amount of caffeine. Nevertheless, he is also the creative type of individual who will always find a new perspective on topics of interest.
---
Key words: Project management, Tip, Guide