Networkmeeting and IPMM in Houston, Texas (USA) on 27.10.2013
IAPM Senior Official and President, Dr. Hans Stromeyer, and the Chairman of the Council of Experts, Dr. Roland Ottmann, hosted the IAPM's first Network Meeting in Houston, Texas. All 27 invited guests arrived at the venue - a private function room at the Opus restaurant which is located in picturesque surroundings above Houston's numerous marinas - in perfect weather. The venue also reflected the international nature of the event because you can sail to Mexico, the Caribbean or any other destination in the world from there.

The evening's highlight was the presentation of honorary IAPM membership to US environmental researchers Grazia Zanin and Professor Max Shauck. They both completed a non-stop transatlantic flight from the USA to Europe in an ethanol fuelled single engine aircraft, setting a world record and proving conclusively that aircraft can be operated on green fuel. They received the highest accolade in American aviation, the Harmon Trophy, which has also been presented to the legendary aviator Charles Lindbergh, from the Vice-President of the United States.

In his laudatory speech, Dr. Hans Stromeyer talked about the duo's scientific projects and achievements at various leading universities and research institutes. It is particularly remarkable that both researchers haven't just contributed to fundamental breakthroughs in the field of environmental protection and atmospheric research, they have also experimentally verified their findings in test and measurement flights.

For example, Grazia Zanin isn't just a reputed researcher, she has also been a flight instructor in the USA and Italy, and she is co-founder of a green airport in the Dominican Republic. Professor Shauck is famous in the USA for both his achievements in mathematics and atmospheric research, and also for winning several aerobatics championships.

We wish both the scientists all the best, good health and success in the future.
Impressions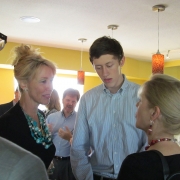 Key insights
Thorough and sustainable stakeholder communications and management are essential in large-scale projects
The duo's untiring efforts to obtain funding and to publish their findings contributed to a considerable extent to their success
There was no public awareness or recognition for their impressive achievements until they had undertaken their very risky record-breaking flight
Professional PR is an essential aspect of any large-scale project