Roland Ottmann: The Naked Project Manager
IAPM "Book of the Year"
General information about the book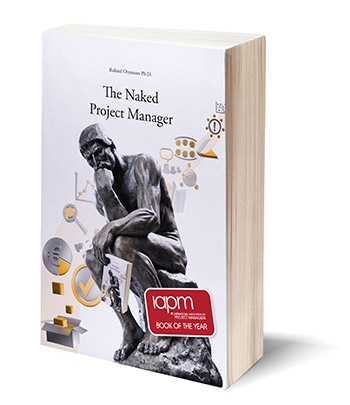 Roland Ottmann is an established author and trainer in the project management scene. His book, The Naked Project Manager, is certainly no conventional textbook, even though the sub-title suggests that it is. Despite reading just as fluidly as a novel, the book's cohesive story contains instructive content conveyed in a practical and interesting way thanks to the author's use of a wide range of didactic options.

Roland Ottmann has incorporated his 25 years of practical project management experience in his book. It is immediately evident to the reader that Ottmann knows exactly what he's talking about. He has managed to integrate all the essential components and facets of project management in a cohesive story that is enriched with amusing and informative subplots. One of the book's strengths is that it also genuinely entertains the reader. Ottmann's informative and entertaining book reflects his obvious passion for his chosen profession and makes perfect reading material for both project management novices and for people with project management experience who want to broaden their knowledge. It is also an ideal reference book for anyone who is preparing for IAPM or IPMA certification.

Informative, exciting and entertaining - there's no easier way to learn about project management.
Content summary
Is it a novel? A comic? A text book? A how-to manual? "The Naked Project Manager" is all those things and much more.

In the preface Ottmann promises to effectively illustrate the project manager's tools with real-life stories that actually took place. He says he wants to 'eliminate project managers' anxieties about one of the best professions around'. The reader senses on every page of the book that project management genuinely is Ottmann's dream job and he makes good on his promise.

What do hotplates and ice, Moses' father-in-law, Socrates and the Oracle of Delphi have to do with project management? You'll be surprised to find out that all these things and people are all part of a story about a project to develop a hay fever medication.

The book is divided into four sections. The first section, 'A Life Dedicated to Project Management' deals with the fundamental question of how much time and effort a project manager should be investing in a project, if it is likely to have a detrimental effect on him and how to avoid frustrations and disappointments.

The second section, 'The Project' is all about a project. Readers accompany young project manager John Sampey through the highs and lows of his career, learning the methods and tools of successful project management as they progress through the book. The project team includes an interim development manager, the project manager and a whole series of sub-project managers and project personnel. The project story is fluidly written, relevant and to the point, covering many key project management issues in the informal context of the hay fever medication project.

The plot is interspersed with useful checklists and other helpful information, such as instructions on how to create a project file or a project charter. Ottmann has also included summarised personal insights gained from his many years of project management experience at appropriate points in the story, plus valuable tips on what you definitely shouldn't do in projects. Excellent comic strips with extremely useful insights also add to the book's informal appeal.

'People in Projects' is the title of the third section. It covers the soft skills in project management and explains how project managers ought to manage and motivate their teams, cope with stress and resolve conflicts.

The fourth section, 'The Certified Project Manager' provides an explanation and comparison of the IAPM International Association of Project Managers and the IPMA International Project Management Associations' certification programmes.

In addition to communicating knowledge with surprising ease, the well-structured book also includes a comprehensive glossary, the previously mentioned check lists and concise summaries.
Style description
Readers are guided along the path to project management enlightenment in a very transparent and systematic way, supported by illustrations, charts and graphics. The book's practical relevance makes it an excellent textbook for active learning and reference work for project managers.

The book's very relaxed prose, coupled with the comic strips and ironic elements summarising each chapter, keep readers turning the pages to discover the next surprise in store for them and make it easier for them to remember the project management tools. Step-by-step, it guides them through the complex maze of project management, from project check to project follow-up and from project team building to self-management. The book isn't just a source of information, it also communicates the subject matter in an emotionally appealing way.

In fact, the content is communicated in such a vivid and entertaining way that it appeals equally to novice and experienced project managers, students of project management and certified project managers.

All in all, The Naked Project Manager is a completely original publication with a clever didactic concept. It also makes far lighter reading than the standard 1000 page project management textbooks, so people will refer to it over and over again.
Connection with project management
The book is a comprehensive publication covering all project management disciplines, containing many real-life scenarios and a clever mix of theoretical knowledge and practical experience. More importantly, Ottmann never forgets the people factor in projects, including their fears, weaknesses and propensity to making mistakes. For example, he gives the reader detailed insights into his decades of project experience in the chapters on stress management, management skills and team work.

At the same time, however, the author's objective is to improve project management practices so that projects will be more successful and, as a result, the work of project managers and project management certification will be less stressful. The Naked Project Manager shows project managers the tools they need to close out projects successfully and ensure that they don't end up 'naked'. It's a magnificent book about project management with vast practical relevance.
Tip
The Naked Project Manager is very useful to project managers who are preparing for certification. It also enriches many aspects of the professional and personal lives of people outside the field of project management. In short,

people from all walks of life can benefit from reading The Naked Project Manager.

Ottmann himself said, 'Project management affects all aspects of our lives, every day. We just aren't always aware of it.
Author's biography
Roland Ottmann, German project management trainer, coach and textbook author, is founder of Ottmann & Partner GmbH Management Consulting and a proven project management expert. He is initiator of the German Project Management Award and the International Project Management Award, and has been on both award juries for more than ten years.

Ottmann studied mechanical engineering in Germany, gained an MBA in the United Kingdom and obtained his PhD in France. He started his career in project management in 1985 and has worked since then as project and programme manager in development, investment and organisational projects, as consultant, trainer (including training concepts for the IPMA International Project Management Association and the IAPM International Association of Project Managers) and as coach to project and programme managers.
---