Staying agile in hybrid approach
A paradigm shift in the project management world is becoming highly acoustic, but the best practices and the experience-driven results are going to stay.
It is imperative to understand how the product evolves and matures from the feedback of the stakeholders or customers, and continuous improvement is required to enhance customer experience.

Product development vs. project development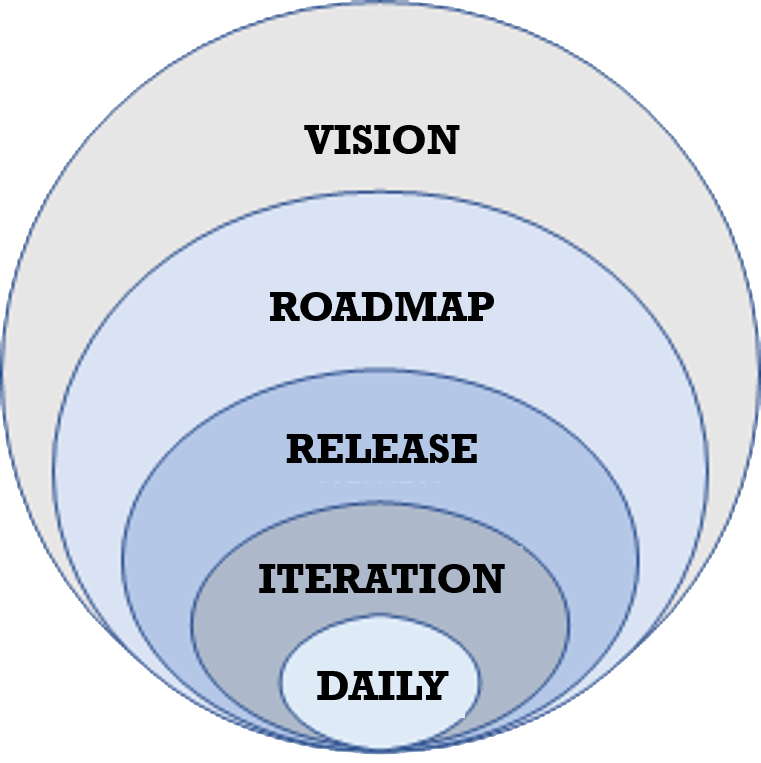 The product management requires managing the backlog and agile planning at various levels: daily, iteration, release, roadmap and vision. Planning at daily and iteration level requires more adaptive approaches to foster team-level collaboration, whereas at release, roadmap and vision level, more predictive approaches are required to align the plan with strategic objectives. Hence, in a single product development, both adaptive and predictive approaches can co-exist.
Traditional project development approaches bear similarities to product development, in a sense that development of project deliverables also require planning, design, development, testing, deployment, maintenance and support for a single iteration. The difference could be in the scope, budget, time or quality, as outputs in traditional projects are mostly definite without ruling out the possibility of changes coming in the way. These estimations are quite important from an aspect of delivery dates and market release, as outcomes and the impact can only be observed or quantified when that stage is reached. The predictability standpoint gives more visibility to objectives and key results (OKRs) for defining and tracking objectives against the outcomes. The adaptability provides a flexibility in delivering and managing changes, improving team engagement and collaboration as well as stakeholder success which can be measured through key performance indicators (KPIs).
Hybrid approach in agility
A classic example for hybrid approaches in agile delivery management practices is the estimation of User Stories, Epics or features in a relative or absolute manner. Relative estimation can only help you in sizing the User Stories at a high level based on the complexity, capability and hardness in relation to other User Stories – but will not help in forecasting the delivery, unless estimated in days or weeks.
The hybrid approach to project management will become a natural choice of project managers to bring both agility and stability in the projects for establishing sustainable project management practices. For measuring values in a relative or absolute manner, the project manager needs to understand the quantity as well as the quality aspects of all outputs. The right quality without optimum quantity and right quantity without optimum quality will not sustain. There is a need to maintain the right balance between both, so that the qualitative decision for producing a marketable quantity for usage can be assessed.
The "Agile Way of Working"
In Scrum framework of Agile Way of Working (WoW), it is very important that every inspection event must be followed by an adaptation event. Nevertheless, it is not necessary that every adaptation event identifies next steps for improvement areas or triggers a further meaningful inspection in a time-boxed iteration. The interdependencies, if any, between the project teams need to be resolved in a timely manner to ensure a meaningful inspection event. Hence, it makes sense to improve the overall flow by integrating other approaches from Lean principles such as Kanban, to develop when required/demanded and not time-boxing the tasks in every Sprint by limiting Work-in-Progress (WiP) based on empirical findings.
Tailoring the predictive and adaptive approaches to make them contextual, allow teams and organisations to become more agile, as it is not only about following and implementing the frameworks as designed, but aligning them to deliver consistent value. Measuring project performance is of utmost importance. Therefore, it is the best practice to do it based on an evidence. It is also very important that traditional approaches or agile frameworks do not interfere with trying something new which may be considered as an anti-pattern in agile world and a tight control in the predictive world. This does not mean that you simply divide a fixed plan into e.g. 20 Sprints of 2 weeks each to showcase an agile delivery without having a Sprint Goal in place and not adding value in every Sprint. This may lead to "zombie scrum" which is not hybrid but anti-project management and anti-team development practice.
Reducing complexities and dependencies in agile approaches when clubbed with traditional approaches of having a clear scope (not ambiguous), leads to well-refined requirements and a positive impact on the project outcomes. The agile approaches do not let the requirements be delivered in an arbitrary way but in an evolved way to gain feedback, learn and adapt subsequent deliveries.
Final thoughts
Project managers must understand that there is no "one size-fits-all" approach as it differs, based on organisational culture and environment, internal and external landscape of the project or its teams and customer expectations. It is recommended to have an alignment with the customer before adopting or tailoring any existing approach, so that the customer stays with you in the journey and move together towards a shared vision. A recent article from SAGE Publication in the Project Management Journal titled "Agile, Traditional, and Hybrid Approaches to Project Success: Is Hybrid a Poor Second Choice?" states that results from an international study, including 477 cross-industry projects, indicated that 52 % of projects could be categorized as hybrid approaches. This percentage also established the fact that traditional, agile and hybrid approaches are going to stay. The difficulty is how to blend them with balanced mindset for achieving improved business and customer value and maturing the project management discipline contextually. The hybrid approach allows you to adopt the best of both worlds and still stay agile for more flexibility, structure and reliability in the projects – improving outcomes and success rate.
Author: Gaurav Dhooper
is a strategic thinker, Digital Transformation (DX) expert, Agile IT Delivery Leader, author and a keynote speaker. Gaurav writes articles on Digital Transformation, Agile Transformation, Agile Project Management and Hybrid Project Management. He also writes articles on Robotic Process Automation, Artificial Intelligence, Machine Learning and Personal Agility in leading online publications. Gaurav has been reviewer for PMI's Standard for Earned Value Management and a book on Agile Contracts. Gaurav also holds the voluntary positions of Digital Media Global Director of PMO Global Alliance and Senior Official of IAPM for Metropolitan area of Noida, India.
---
Keywords: Agile project management, Hybrid project management