Digitization and security
26.04.2018
- Oliver Schonschek is an IT journalist and technology consultant. Together with Dr. Andreas Bergler, he thought about IT security in an article for the "IT Business" website. He poses the question of whether and to what extent digitization represents a security risk for IT. Digitalization has many advantages and is, of course, unstoppable. In some areas it is progressing at a rapid pace, in others at a leisurely pace, and in some cases is developing in unexpected directions. In many areas, digitization reduces production and wage costs, while productivity increases and new products and services continue to conquer the market. Thanks to digitization, new markets can be opened up and sales increased. Digitisation also brings with it some challenges. IT specialists must be trained and further educated, because hardly any sector develops faster than the IT sector, which has long penetrated all other sectors.
Read more »
Digitisation and how it affects the world of work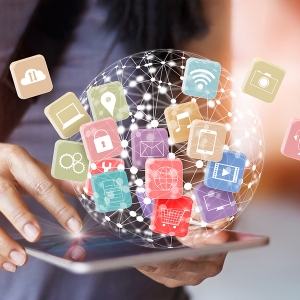 18.04.2018
- Digitisation is THE subject in all industries and almost everyone notices its effects in their workplace directly and indirectly. Especially in an industry like project management you have to adapt to new technologies and digital gadgets almost monthly. A modern project manager is expected to be familiar with the latest methods and technical tools. The effects of digitization are manifold. People, society and the environment often feel changes delayed and not immediately, because digitization is progressing slowly and step by step, so that it is often only in retrospect that everything that has changed in recent years can really be recorded. Anyone who calls a hotline, for example, no longer expects to hear a human voice. Long (more or less) intelligent software has taken over here.
Read more »
Setting priorities in software projects
12.04.2018
- Jürgen Lampe works as a consultant in the IT department of Agon Solutions GmbH in Frankfurt and has more than 15 years of experience in implementing software solutions in banks. His article "Correctly prioritizing in software projects" on the Jaxenter.de website deals with priorities in software projects and describes the dilemma of selecting the most urgent project and making objective decisions in everyday project work. Jürgen Lampe describes the situation known to all project managers to prioritize under time pressure. Often not all the data and facts are available that would actually be necessary to make a well-founded decision - but time is running out and an important decision must be made immediately.
Read more »
Role of women in project management
29.03.2018
- Two professors from the Technical University of Berlin conducted a study in which they investigated trends in project management. Future trends up to 2025, i.e. for the coming years, were observed and analysed. Among the 14 different trends identified was also the statement that there was a tendency for more and more women to discover the professional field of project management. Employment statistics show that more and more female project managers have been found in recent years and it looks as if this development is set to continue. This is probably mainly due to the fact that the trend may indeed intensify significantly, because we are still far from seeing as many women as men flock to this field of employment. But why is that and how will this trend continue?
Read more »
Networking and relationship management for project management
22.03.2018
- Networking is a term that has become increasingly important in the professional environment and in project management in recent years. Networking itself has changed dramatically with the emergence of individual social media of different orientation. However, the term networking basically means managing all relationships that exist in the professional environment, not only on social platforms, but especially personally. Networking competence and relationship management are among the soft skills expected of a successful project manager, because they are often crucial for the success of projects. Relationships must be established, maintained and cultivated in order to be able to benefit from them for oneself, one's own career and one's projects.
Read more »
Successful use of IT in project management
13.03.2018
- Particularly at a time when projects are becoming more and more complex, when project managers have to achieve goals that cannot be achieved by conventional means and which in many areas require a high degree of creativity and flexibility, good management is important and crucial for success. Customers are pushing for the shortest possible project duration and rapid results. At the same time, frequent changes during the project within the framework of agile management also challenge experienced project managers. In addition to the continuous adaptation of project progress and project goals, project managers indicate outdated plans, misunderstandings in the project team and problems that are recognised too late as frequent sources of error.
Read more »
Using the power of visualisation
28.02.2018
- Meetings are essential in project management. The project manager meets constantly with his team colleagues, with other parties working on the project, with authorities or customers. In all of these meetings, problems and strategies are discussed, ideas are discussed and decisions are made - sometimes they are extremely important and have to produce groundbreaking decisions, sometimes they are simply part of the project's everyday life and should only bring all participants to the same level. In any case, the meetings serve the progress of the project and should therefore be taken seriously. In order to ensure that every meeting has the desired success, it is important that all parties involved are concentrate on the meeting, regardless of whether it lasts ten minutes or two hours.
Read more »
Improving teamwork through psychological safety
22.02.2018
- Which of us is not familiar with this situation - teamwork can be both a blessing and a curse. If the team works well together or communicates correctly, teamwork brings real added value for all participants. But if there is something not quite right about it, the team's productivity can also minimise the motivation of the members. What is the reason why some teams work together efficiently and without any problems, but others fail very early? Google also investigated this question with the "Aristotle" project. The differences between successful and mediocre or poor teams in Google's company was investigated. Although the framework conditions were similar, there were significant differences in team performance.
Read more »
How to handle difficult conversations effectively
14.02.2018
- Project managers have to conduct numerous conversations after a project has been completed. Some of them can be unpleasant, for example, if customers need to be informed that not all of their requirements could be met or if it is necessary to point out some mistakes to a member of the team. It is important in these kinds of situations for project managers to find a happy medium to ensure that the conversation is conducted in an assertive way, whilst remaining polite and professional. It is vital that project managers regard each conversation as an individual case and avoid using generic phrases. When conducting these kinds of conversations, it can make a difference whether the person you are speaking with has been working in project management for a while or whether this person is a newcomer to the profession.
Read more »
Digitisation leads project managers to top management
06.02.2018
- While some are thrilled by the endless possibilities of digitalisation, others are driven by the fear of missing the connection. Finally, digitisation, i. e. the transformation of analogue structures into digital structures, will have a massive impact on our professional lives, which is not only announced by numerous studies but also proved in reality. Digitisation does not stop at project management either, but will have a noticeable impact on the work of project managers and the organisational form of companies. In a three-part series, we describe the impact of digitisation on project management, project managers and organisations.
Read more »