2nd Network Meeting in Fürth (Germany) on 13.6.2013
The second Network Meeting took place in Germany on 13 June 2013 at the invitation of IAPM Senior Official Hermann Endress and IAPM Official Andreas Walz, both responsible for IAPM Network Meetings in the Metropolitan Region of Nuremberg. It was attended by numerous IAPM certificate holders and selected guests. AtoS manager Peter Hollfelder provided rooms at AtoS Information Technology GmbH in Fürth as the meeting venue.

The evening began with an interesting presentation of AtoS by Peter Hollfelder. Mr Hollfelder reported on the company's different activities of Consulting und Technology Services, System Integration, Hi-Tech Transactional Services and Managed Services. He also explained the internal project management process. At AtoS, operational structures and responsibilities are clearly defined in a matrix organisation. In the subsequent discussion, Network Meeting participants had the opportunity to ask questions about the company and the presentation.

The main part of the event was a presentation by Harald Steinmüller, Cert. Senior Project Manager (IAPM) entitled "Lost in Translation - Project Manager in Asia". He started out working on European projects in 1998, moving a few years later into the international realm, predominantly in South-East Asia. Since 2010, when he set up as freelance consultant, he has been passing on his international project management experience to clients. In a combination of diary entries, anecdotes and experience reports, Harald Steinmüller thoroughly entertained his listeners, who were reduced to laughter on several occasions. The participants very much enjoyed the presentation. In his interesting and humorous accounts, Harald Steinmüller painted a vivid picture of how he survived the Asia experience and his projects exploits there.

Afterwards, participants were served with drinks and snacks and had the opportunity to discuss their own experiences and problems in international projects and add new personal and business contacts to their networks.
Extensive positive feedback indicates that the evening was a resounding success and enjoyed by all. The next Network Meeting in autumn is already being planned.

Impressions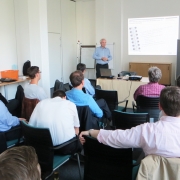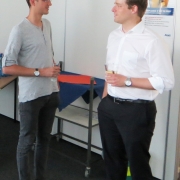 Helpful tips & tricks for project managers in China, compiled by Harald Steinmüller
Few Chinese speak English, so you'll have to arrange appropriate means of communication. Always carry a phrase book around with you and learn the Chinese hand signals for the numbers one to ten.
Use your smartphone! E.g. you can photograph the food that people on other tables are eating in a restaurant and then order it.
Learn to eat with chopsticks and practice karaoke ;)
Think about your health - especially when you're going to be in the country for some time! Ask your doctor about vaccinations and emergency medications.
In China harmony isn't an abstract concept. It's a concept that people live by. Forget the German procedure of addressing urgent problems first and start off your discussions by talking about common interests. Don't be demanding about work or deadlines. Ask your Chinese partner about the options that are available. It will save you from being disappointed.
Don't be in a hurry! Your Chinese partners want to build trust and long-term business relationships, and that generally takes time. If you go at it like a bull at a gate and think that the performance specification is the only thing that counts in business, you're going to encounter problems. Patience is a Chinese virtue!
Don't try to be Chinese - because you aren't. Be a tolerant representative of your culture or, to put it more simply, "Be yourself!" Authenticity is a key component of successful business relations.