First Network Meeting in Berlin (Germany) on 25.4.2013
The first IAPM Network Meeting was held in Germany on 25 April 2013 at the invitation of Wilhelm Feldt, the IAPM's Senior Official for the European Metropolitan Region of Berlin. IAPM certificate holders and invited guests travelled from all over Germany to listen to an interesting presentation and network in the informal atmosphere of the DB-Casino's Casino-Bar. All participants are unanimous: the Berlin Network Meeting was a complete success!

The event kicked off with a speech from famous project management expert and President of the IAPM Council of Experts, Dr. Roland Ottmann. He welcomed all the guests and explained the idea behind the network meetings."The IAPM intends the Network Meeting to be a forum where its certificate holders can meet up and make valuable long-term business contacts," he explained.
The main part of the event was a presentation by architect Norbert Lehmann, Managing Director of the Neubau U5 engineering consortium. He provided a very entertaining account of planning the "U5 Berlin" underground rail project from 1999 to date. It was particularly interesting to hear about all the advance planning activities that were necessary, such as an archaeological dig and cable relocation work. Norbert Lehmann then went on to explain the various construction phases, from the creation of the slurry walls, the sprayed concrete base and top ceiling, the under-ceiling excavation and the termination of U6 in construction sections 3 and 4, the construction of the access level and the U6 preliminary works, mechanical excavation of the tunnel through the future station, under-ceiling excavation in construction sections 1 to 3 and, finally, the completion of the preliminary construction works in sections 1 to 3.

Norbert Lehmann's very interesting presentation was followed by an opportunity for dialogue and business networking, fortified by the delicious food in the Casino-Bar. Everyone enjoyed chatting about the underground rail tunnel project and sharing their experiences in this informal setting. The event appeals to project managers in all sectors of industry and addresses issues that are relevant for their own organisations.

Impressions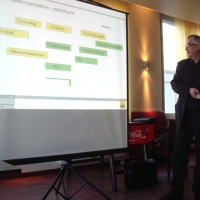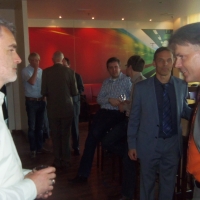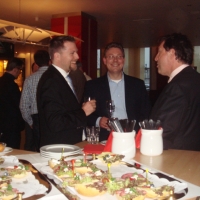 Key learnings about large-scale infrastructure projects
Widespread public acceptance is essential
Architects, project managers and specialist companies have to work closely together right from the stakeholder and environment analysis stage
The entire project has to be planned in advance from the start to end
Costs have to be properly budgeted and adapted when necessary
A risk assessment has to be performed and appropriate provisions formed